About Us
West Kebabs & Burgers is a Kebabs takeaway in Feltham. Why don't you try our West Special Kebab or Chips in Pitta?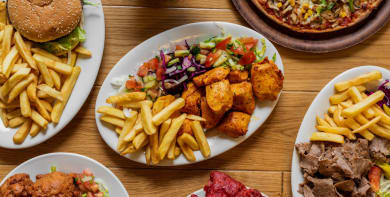 Reviews
41 reviews
Sera
"Momos surprisingly were delicious 👍 Lamb choila and sekuwa too. Will order again."
13/04/2021
Shanice
"Was lovely food"
24/03/2021
Daniel
"Great food delivery guy was lovely and food was still hot"
12/01/2021
Menu
Vegetarian Burger With Cheese
£2.65
Spicy Bean Burger With Cheese
£2.65
Quarter Pounder Burger with Cheese
£2.85
Donner Kebab Burger (Chicken Donner)
£2.85
Donner Kebab Burger (Lamb Donner)
£2.85
Half Pounder Burger with Cheese
£4.00
Chicken Doner, Fries & Drink
£4.99
Lamb Doner, Fries & Drink
£4.99
Cheese Burger, Fries & Drink
£2.99
Quarter Pounder, Fries & Drink
£4.50
Half Pounder, Fries & Drink
£5.50
6 Pcs Nuggets, Fries & Drink
£3.50
Chicken Steak Burger, Fries & Drink
£3.50
Sausage or Saveloy, Fries & Curry sauce
£2.50
Chicken or Lamb Shish in a Wrap, Fries & Drink
£4.99
Chicken Donner Kebab Medium
Fresh chicken, specially seasoned & grilled on an upright spit & then carved
£5.99
Chicken Donner Kebab Small
Fresh chicken, specially seasoned & grilled on an upright spit & then carved
£4.99
Chicken Donner Kebab Large
Fresh chicken, specially seasoned & grilled on an upright spit & then carved
£6.99
Chicken Donner Meat & Chips
£5.99
Chicken Shish Kebab Medium
Pure breast of chicken marinated & barbecued on a flame grill
£6.99
Chicken Shish Kebab Small
Pure breast of chicken marinated & barbecued on a flame grill
£4.99
Chicken Shish Kebab Large
Pure breast of chicken marinated & barbecued on a flame grill
£8.99
Kofta Kebab Medium
Fresh minced lamb & oriental herbs on a flame grill
£6.99
Kofta Kebab Small
Fresh minced lamb & oriental herbs on a flame grill
£4.99
Kofta Kebab Large
Fresh minced lamb & oriental herbs on a flame grill
£8.99
Lamb Shish Kebab Medium
Fresh fillet of diced lamb marinated & barbecued on a flame grill
£6.99
Lamb Shish Kebab Small
Fresh fillet of diced lamb marinated & barbecued on a flame grill
£4.99
Lamb Shish Kebab Large
Fresh fillet of diced lamb marinated & barbecued on a flame grill
£8.99
Mixed Donner Kebab
Chicken & lamb donner
£6.50
Lamb Donner Kebab Medium
Fresh lamb specially seasoned & grilled on an upright spit & then carved
£5.99
Lamb Donner Kebab Small
Fresh lamb specially seasoned & grilled on an upright spit & then carved
£4.99
Lamb Donner Kebab Large
Fresh lamb specially seasoned & grilled on an upright spit & then carved
£6.99
West Special Kebab
Lamb donner, chicken donner, shish kebab, chicken kebab & kofta kebab
£11.99
Chicken Shish & Lamb Shish Kebab
£6.00
Kofta Kebab & Chicken Shish Kebab
£6.00
Lamb Shish & Chicken Donner Kebab
£5.50
Lamb Shish & Lamb Donner Kebab
£5.50
Hot Spicy Wings 03 Pieces
£1.00
Hot Spicy Wings 06 Pieces
£2.00
Hot Spicy Wings 09 Pieces
£3.00
Chicken Nuggets 06 Pieces
£2.20
Chicken Nuggets 08 Pieces
£2.90
Chicken Nuggets 12 Pieces
£4.00
Margherita Pizza 09" Small
Cheese & tomato
£4.99
Margherita Pizza 12" Medium
Cheese & tomato
£6.99
Margherita Pizza 14" Large
Cheese & tomato
£7.99
Pepperoni Pizza 09" Small
Double pepperoni & double cheese
£4.99
Pepperoni Pizza 12" Medium
Double pepperoni & double cheese
£6.99
Pepperoni Pizza 14" Large
Double pepperoni & double cheese
£7.99
Tandoori Pizza 09" Small
Tandoor chicken, onion, mushroom, jalapeno
£4.99
Tandoori Pizza 12" Medium
Tandoor chicken, onion, mushroom, jalapeno
£6.99
Tandoori Pizza 14" Large
Tandoor chicken, onion, mushroom, jalapeno
£7.99
Hawaiian Pizza 09" Small
Turkey ham, pineapple
£4.99
Hawaiian Pizza 12" Medium
Turkey ham, pineapple
£6.99
Hawaiian Pizza 14" Large
Turkey ham, pineapple
£7.99
Kebab Pizza (Lamb Donner) 09" Small
Lamb donner or chicken donner, onion, mushroom
£4.99
Kebab Pizza (Lamb Donner) 12" Medium
Lamb donner or chicken donner, onion, mushroom
£6.99
Kebab Pizza (Lamb Donner) 14" Large
Lamb donner or chicken donner, onion, mushroom
£7.99
Kebab Pizza (Chicken Donner) 09" Small
Lamb or chicken donner, onion, mushroom
£4.99
Kebab Pizza (Chicken Donner) 12" Medium
Lamb or chicken donner, onion, mushroom
£6.99
Kebab Pizza (Chicken Donner) 14" Large
Lamb or chicken donner, onion, mushroom
£7.99
Meat Feast Pizza 09" Small
Turkey ham, pepperoni, beef, sausage
£4.99
Meat Feast Pizza 12" Medium
Turkey ham, pepperoni, beef, sausage
£6.99
Meat Feast Pizza 14" Large
Turkey ham, pepperoni, beef, sausage
£7.99
BBQ Meat Feast 09" Small
BBQ sauce, bbq chicken, pepperoni, beef
£4.99
BBQ Meat Feast 12" Medium
BBQ sauce, bbq chicken, pepperoni, beef
£6.99
BBQ Meat Feast 14" Large
BBQ sauce, bbq chicken, pepperoni, beef
£7.99
Chicken Supreme Pizza 09" Small
Chicken, mushroom, green peppers
£4.99
Chicken Supreme Pizza 12" Medium
Chicken, mushroom, green peppers
£6.99
Chicken Supreme Pizza 14" Large
Chicken, mushroom, green peppers
£7.99
Vegetarian Supreme Pizza 09" Small
Onions, mushrooms, tomatoes, green peppers, sweetcorn, black olives
£4.99
Vegetarian Supreme Pizza 12" Medium
Onions, mushrooms, tomatoes, green peppers, sweetcorn, black olives
£6.99
Vegetarian Supreme Pizza 14" Large
Onions, mushrooms, tomatoes, green peppers, sweetcorn, black olives
£7.99
Vegetarian Hot Pizza 09" Small
Onion, mushroom, tomatoes, green chillies, green peppers
£4.99
Vegetarian Hot Pizza 12" Medium
Onion, mushroom, tomatoes, green chillies, green peppers
£6.99
Vegetarian Hot Pizza 14" Large
Onion, mushroom, tomatoes, green chillies, green peppers
£7.99
Gurkha Pizza (Extra Hot) 09" Small
Chicken donner, lamb donner, peppers, green chillies, schezwan pepper mix
£4.99
Gurkha Pizza (Extra Hot) 12" Medium
Chicken donner, lamb donner, peppers, green chillies, schezwan pepper mix
£6.99
Gurkha Pizza (Extra Hot) 14" Large
Chicken donner, lamb donner, peppers, green chillies, schezwan pepper mix
£7.99
Salad in Pitta Bread with Hummus
£2.50
Salad in Pitta with Grated Cheese
£2.00
Chips in Pitta with Salad
£2.50
Chips in Pitta with Cheese & Salad
£3.00
Red Bull Energy Drink - 250ml
£1.99
Momo Chicken
Popular Nepalese steamed dumplings served with spicy tomato chutney
£5.00
Momo Lamb
Popular Nepalese steamed dumplings served with spicy tomato chutney
£5.00
Momo Vegetable
Popular Nepalese steamed dumplings served with spicy tomato chutney
£5.00
Chow Mein Dish Chicken
Egg noodles stir fried with mix vegetables & sauces
£5.00
Chow Mein Dish Vegetable
Egg noodles stir fried with mix vegetables & sauces
£5.00
Sekuwa Dish
Diced lamb meat marinated with authentic Nepalese spices & herbs then grilled
£5.99
Sukuti
Sundried meat cooked with authentic Nepalese spices & herbs
£5.99
Chatpate
Hot & spicy snacks prepared with puffed rice & mix of salads
£3.50
Momo Chilli
Popular Nepalese steamed dumplings served with spicy tomato chutney
£5.99
Momo - Jhol
Popular Nepalese steamed dumplings served with spicy tomato chutney
Contains: Nuts and Peanuts
£5.50
Momo Fry
Popular Nepalese steamed dumplings served with spicy tomato chutney
£4.99
Chow Mein Dish Sukuti
Egg noodles stir fried with mix vegetables & sauces
£6.99
Chicken Choila
Grilled boneless chicken and then marinated with hot Nepalese spices.
Contains: Mustard
£6.99
Chicken Gizzard Choila
Grilled gizzards and then marinated in hot Nepalese spices
Contains: Mustard
£6.99
Meal 1
2 Pieces chicken, fries & drink
£3.99
Meal 2
6 Hot wings, fries & drink
£3.99
Meal 3
Chicken fillet burger, fries & drink
£4.99
Meal 4
2 Pieces chicken, 3 hot wimhs. fries & drink
£4.99
Meal 5
Chicken wrap, fries & drink
£4.99
Meal 6
3 Pieces chicken, 3 hot wings, fries & drink
£5.49
Family Meal 1
6 Piece chicken, 6 hot wings, 4 fries & 1.5L Pepsi
£10.99
Family Meal 2
10 Piece chicken, 4 fries & 1.5L Pepsi
£13.99
Family Meal 3
Any 2 large pizzas, garlic bread & 1.5L Pepsi
£15.99
Calzone 09" Small
Pizza sauce, cheese & pick 2 toppings of your choice
£4.99
Calzone 12" Medium
Pizza sauce, cheese & pick 2 toppings of your choice
£6.99
Calzone 14" Large
Pizza sauce, cheese & pick 2 toppings of your choice
£7.99
Chicken Donner Kebab Wrap
£3.00
Contact Us
Find Us
123B Harlington Road West, Feltham, TW140JG
We deliver to
TW13, TW14, TW15, TW4